Tour News and Studio Stories

Tour News and Updates
Information about our 2017 artists is being edited and will be up live on the site soon! Please check back!
A Glimpse into our Studios 
Mineral Point Fall Art Tour Artist: Michael Smith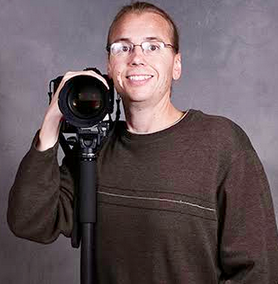 Where I grew up, in Mineral Point, I was always drawn to nature. I enjoyed birds, waterfalls, the changing of the seasons, and wildlife. I remember when I was little my parents bought my brother and I a subscription to a series of nature and wildlife cards which had a picture on the front of a wild animal, and information about it on the back. I was always excited when a new set arrived and spent a lot of time looking at the cards. That is really what lit the spark and got me interested in photographing animals, because from the time I was very young I can remember wanting a camera to take my own pictures. My first camera was a disc camera, then I graduated to a 35 millimeter point and shoot camera, and when I was a teenager I bought my first 35 mm SLR (single lens reflex)which was a modern automatic camera that also allowed you to be more creative and change the settings yourself.
I was a business and economics major in school and photography is something I taught myself over the years. I just go out into nature and wait until I see something interesting.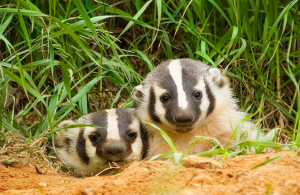 I photographed these badgers just outside of Dodgeville. I spent about 20 hours watching their den before they finally stuck their heads out for a few seconds.  I got one good photo of them and never saw them again.  It was worth the wait. Most of the pictures I take are this type of unstaged photo.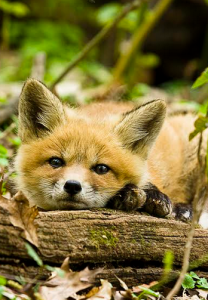 Occasionally I will set up a shot. For example, if I know hummingbirds consistently come to a feeder, I'll put a backdrop behind it, replace the feeder with a flower, and use an eye dropper to drop nectar in the flower. In this way I'm creating an outdoor studio. To get this hummingbird shot, I covered 5 of the 6 ports on my hummingbird feeder with tape, so the hummingbirds came to the one available port. Then I taped a stick to the feeder and the bird landed on it.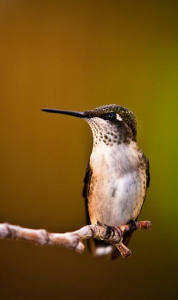 Another picture I set up involved a shot I had taken of some leaves. I noticed the leaves looked like a flame, so I thought I could set something up that looked like fire.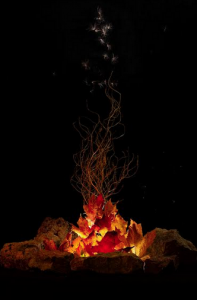 A very popular staged photo is one in which I put a ring in the binding of a bible that is open to a specific passage frequently used in wedding ceremonies. Then I light it from behind so the shadow that is cast is in the shape of a heart.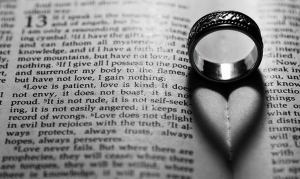 But most of what I photograph is outdoors and involves a lot of sitting and waiting. Photography for me is my outlet for decompressing. I go to a quiet location where I can be still and unwind. For instance, I will paddle around on a lake early in the morning, never knowing what I will see but always hoping it will be something special.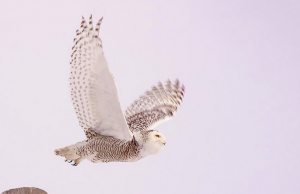 I love sharing my pictures, but I really take them for myself. I'm glad to share them on the Fall Art Tour because it makes me happy when other people enjoy them, too. Visitors will see original photographs, framed prints, greeting cards and book marks. My time for taking pictures is somewhat limited these days because I have two children, ages 3 and 8 months. I'm waiting for them to be old enough to carry some of my equipment, but they won't be ready to help out yet this year.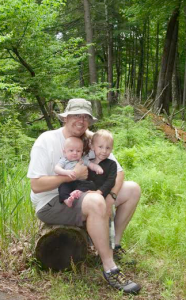 –SUBMITTED BY GEORGIA WEITHE
Mineral Point Fall Art Tour Artist: Jane Wilcoxson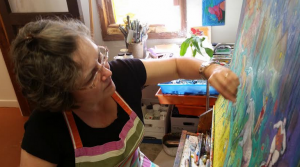 In 1991 my family discovered Mineral Point. It looks just like England, and when I got homesick I would say to my husband, "Either take me home or take me to Mineral Point!" Last August, when we were here on a weekend get-away, a window of opportunity opened. We discovered a building that I had always loved, had a "for sale" sign on it. It used to be a toy store that I visited with my children and it was such a light and bright and sunny space, it seemed to me like the happiest place in the universe. When we noticed that the sign said "make an offer "we did… and it was accepted. The building is now my studio and art gallery where I display my work and that of some other artists. I knew all along it was meant to be!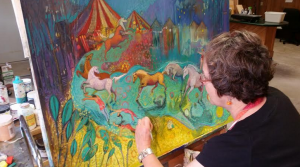 I've been an artist since I was 3. I had meningitis and when I came home from the hospital I was dizzy and felt sick, and I couldn't see very well. The only thing I could do was lie face down, and I painted and I drew. As a result of meningitis I was unable to see color clearly until I had surgery in my twenties, and after that my painting became more vibrant and rich.
I've always used color intuitively; it has to feel right. I like to sketch things from real life, and I think I'm picking up on the energy. For example, the seahorses have a beautiful flowing movement and in the painting I strive to capture that quality. My sketchbooks will be on display and visitors will see how I use them to develop my ideas.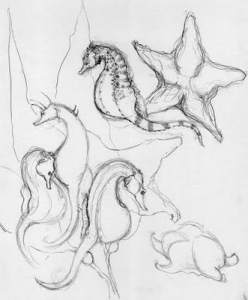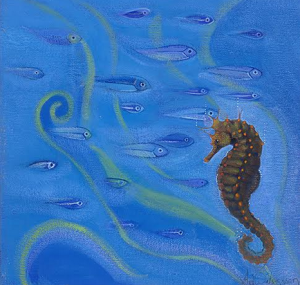 I feel I am more of a storyteller than an artist, and most of my paintings are fables. I started a series of circus paintings after seeing a woman who was vehemently speaking about how elephants are mistreated in the circus. That led me to reflect on the bigger picture, and I thought about how African elephants are being slaughtered to extinction. So I took the African elephant, which you never find in a circus, and painted them in a family unit in a circus environment. They are living as refugees protected from poachers in my paintings.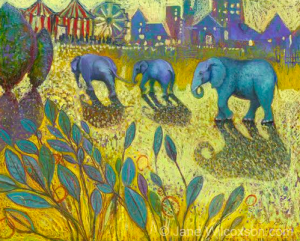 I began to reflect on the fact that the circus is a Victorian aesthetic, same as our green lawns, which led me to a lawn series. My most recent painting in that series is called "Mrs. Smith's lawn mower". It's about permaculture prairies, and re-growing the earth and the need to let go of our old paradigm and live differently on the planet.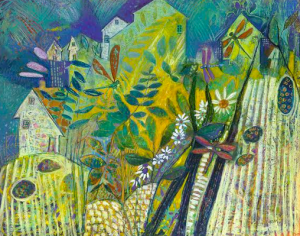 Before moving in, my husband and I painted every single wall and floor in my new studio. I have never worked so hard yet felt so happy. I look forward to sharing my happy space with visitors who stop in for a visit.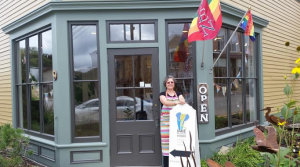 –Story Submitted by Georgia Weithe
 Mineral Point Fall Art Tour Artist: Joe Cole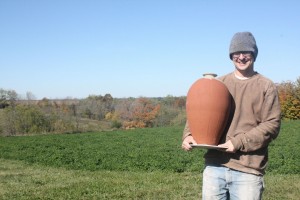 Joe has been creating functional, wood-fired pottery outside of Mineral Point since he and his wife moved back to this area from North Carolina in 2008. His work is quiet and subtle, rooted in and influenced by the rich global history of folk pottery.  
Joe began making pots during college in Iowa, but his journey into pottery quickly took us south. Central North Carolina has an abundance of clay that is suitable for high-temperature firing with minimal processing. This geologic blessing, combined with a wealth of useful glaze materials that are industrially mined from the mountains in the western part of the state, has led to a long and deep cultural appreciation for pottery in that state.
With this as a cultural backdrop, Joe apprenticed for two years near Chapel Hill for with world-renowned potter Mark Hewitt. Mark is known for his extensive use of local materials, shapes that reference pots of antiquity, and rich ceramic surfaces developed through multi-day wood firings.  Joe's pottery experience prior to apprenticing was similar to that of most contemporary potters, who use processed, commercially mixed clay and glazes that have either been pre-mixed or made from widely available, uniform commercial materials. While apprenticing under Mark, Joe learned that just as a skilled baker using local flour and a handmade sourdough starter can create a distinctive bread, using minimally-processed and local raw materials, and wood firing creates a pot that reflects the maker, materials, place, and journey of the pot from earth to fire to kitchen table.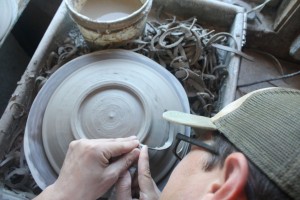 During this time we were also exposed to pots that predate commercial materials and modern fossil-fuel firing techniques.  These remarkable pots are beautifully imperfect, with the time and place of their creation fired into each one. After his apprenticeship, we moved to the pottery community of Seagrove, NC, where Joe worked as a journeyman potter and assisted in materials development for a company that processes small-batch local materials for potters.  Christy worked on a pottery and farmed. 
When we returned to the Midwest in 2008, we needed to translate what we learned in North Carolina to the geology of the Driftless Area. When you are new to town and hunting for raw minerals, it's good to have the folks who know the local earth on your side. Bruce Ivey of Ivey Construction in Mineral Point set us up with samples of local rock and a truckloads of red clay.  Geologist Don Campbell was indispensable and incredibly generous in helping us understand and identify regional raw glaze materials such as dolomite, sandstone, and limestone. He also chemically analyzed materials for us, and pointed us to specific quarries that had higher concentrations of the materials we needed.
After we acquired samples of local materials, we began processing and testing. To get rocks and clay into usable form for creating glazes, we use a homemade ball mill. The mill works like a large rock tumbler, crushing rocks and clays into powder between porcelain balls.
It became quickly evident that the crumbly local red clay was unsuitable for use in a watertight, functional clay body because of the high concentration of dolomite. However, we could see potential for incorporating it into our decorating slips and glazes.  One of our favorite glazes from this experimentation we named Ivey Black. The iron and dolomite in this glaze work together to create a rich and varied surface with mingled rusty reds and deep dimensional blacks that break to tan around the edges of the pot.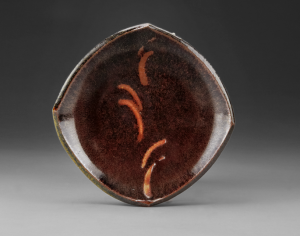 We next developed a glaze we named Ivey Green. This glaze contains a lower concentration of red clay, which gives it a translucent golden brown color. Ivey Green also utilizes wood ash from our fireplace. The addition of wood ash to our glazes gives a glossy, liquid look to the fired pot. We also love how Ivey Green pools in etched decorations.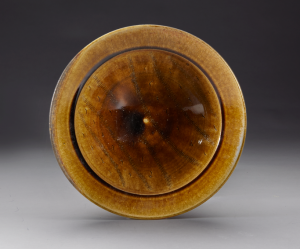 Our Blue Celadon glaze also incorporates sandstone and wood ash. The most common and foolproof way to get a blue glaze is to use cobalt, which is a potent heavy metal from Africa. Instead, the sandstone and wood ash in combination with our firing and cooling methods give our Celadon glaze a delicate blue color and a soft, matte finish with deeper blue crystals where the glaze thickens and pools.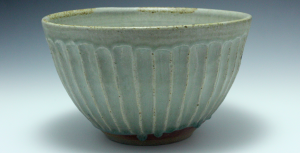 Our pots aren't complete until they go through the fire. Our kiln is fueled by waste wood from local sawmills and cordwood from our neighbors, Coleman and John at Maplewood Lodge.  We are even lucky enough to get fabulous deliveries of pine periodically from a visitor to our studio who also trims trees. Our kiln is designed so the long, slow moving flames, impossibly hot embers, and clouds of ash floating from the 2200 degree fire wrap around the pots.  Alkaline vapors originating from minerals pulled from the earth, held in the bodies of trees, and set free by combustion color the pots. Melting ash leaves behind surfaces ranging from peachy specks to earthy brown patches to glassy green rivers.  


The mingling of materials and processes give our pots their physical presence. We also believe our work reflects our surroundings in more subtle ways. Our work isn't spectacular like a mountain range, or roped in the pinks and blues of a desert sunset. We aim for a simple beauty that transcends fads and continues to grow richer with daily use. The enjoyment in sipping tea from a thoughtfully made tea bowl mirrors the enjoyment of hiking the trails and floating the waterways of the rolling Driftless Area. We are so happy to be here, and look forward to seeing all of you during the Fall Art Tour.
–Submitted by Joe's wife Christy Cole. A modified version of this Studio Story was originally published in the Voice of the River Valley. Christy is taking time off from making pots, but she will be happy to introduce Tour guests to the best Cole collaboration ever: Cleo Inez, who was born with bright eyes and full head of curly hair in July of 2015.
 Baraboo Fall Art Tour Artist: Homer Daehn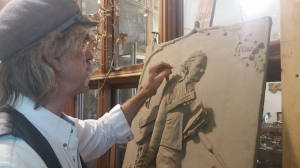 For the Fall Art Tour, I will be setting up shop in the Elephant House at Circus World, rather than in my art studio. It was actually twenty-five years ago since I last carved in that space. I moved to Baraboo in 1991 after being given a commission to work on the United States Band Wagon. During that summer, Circus World asked me to promote the project by carving for museum visitors. Since then, I have worked on thirty additional wagons. On the Fall Art Tour, you will have an opportunity to see what progress has been made on the Red Riding Hood pony float. The finished float will be a carved replica of the circa 1886-1888 original which no longer exists. The inspiration and initial funding for this project came from a private donor who hopes to see the float featured in future Circus World parades.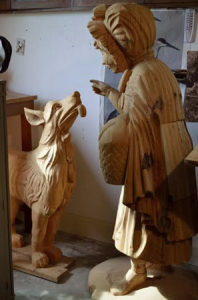 Prior to my work with Circus World, my desire to carve fine art took me to the sea where I served as the ship's carpenter and sailed for three years on the "Red Lion," a half-scale replica of a 1597 Dutch merchant square-rigger vessel. The sea has made carvers of carpenters for centuries and it did the same for me. I sailed through the Great Lakes, down the Atlantic, and around the Florida Keys to the West Coast. My days were spent rigging, woodworking, fixing sails, and carving. By the end of that journey, I was skilled enough to be hired by a Chicago boat builder and master of the trade. For the next eight years, I worked building ship's wheels, yard arms, and masts. The evenings were spent carving.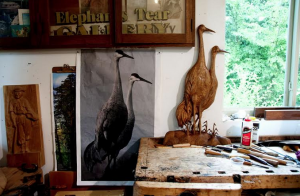 Working with wood has been my passion for as long as I can remember. It started with furniture making and woodturning, and then transitioned to wooden boat building, carving, and sculpting. Each morning I wake up early, make a strong cup of coffee, and head to my studio. But the day would not be complete without a stop at the city yards in search of interesting driftwood, crotch wood, or burled wood that can be turned into art. A seven day work week coupled with predawn hours at my workbench, allow me time to diversify, experiment, and refine my art.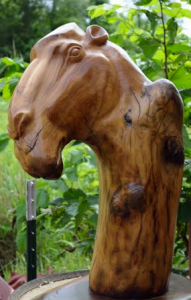 My art has taken on a new dimension in recent years. Completed works of Aldo Leopold, John Muir, and Nina Leopold Bradley will be followed by yet to be created sculptures of those who have given voice to the awareness that we are, and need to be caretakers of the Earth.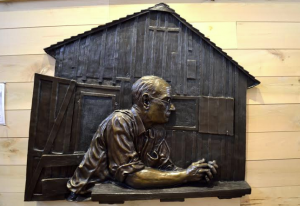 Visits energize me as well as visitors. Many often express the desire to slow down their lives and dig out the old brushes, work some clay, or buy a couple of chisels and try their own hand at carving.
–Story contributed by Patricia Kelly & Georgia Weithe
Spring Green Fall Art Tour Artist: Ashley Pfannenstiel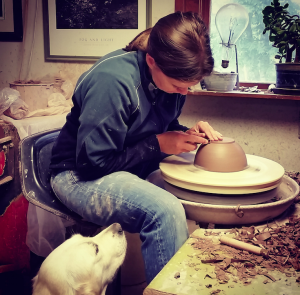 Becoming a professional potter has been a dream come true! The adventure began when I was having dinner one night with a friend, and we asked each other where we'd like to be in 10 years. I said I'd like to be doing something more creative and be my own boss. She told me I ought to check out her friend's pottery studio which was for sale. My first thought was, "There's no way I'm going to buy a pottery studio!" But I thought it would be a nice day trip so I drove from Chicago to Spring Green. Arriving at night I saw the stars, I heard the crickets and the donkey next door, and I didn't hear any sirens…and I fell in love with the place. My next thought was "how can I make this work?" Within 6 months I had quit my job in retail, packed my things, and moved from downtown Chicago to rural Spring Green!
I lived with Peggy Ahlgren, the former owner, for 6 weeks and she taught me how to fire the beast of a hand built kiln (it's kind of like taming a dragon).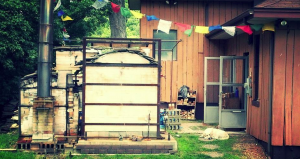 During that time I worked on my forms, testing new glazes figuring out what my style would be. I had a vision for what I wanted to make; my goal is to make pieces that are not only functional but also beautiful. I feel I have developed a style that reflects urban simplicity combined with a rustic flavor.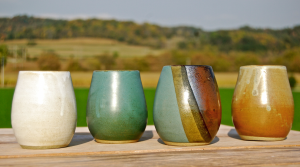 I do gas fired reduction stoneware, which I fire very hot and that makes the pieces extremely durable. It also pulls out iron from the clay which gives it richness and beauty, as well as making it strong. I do mostly kitchenware because I like being part of other people's meals. Family meals were always very important to me; I really value the ritual of sharing in community. I could never understand buying local or organic food and not serving it on plates that were made locally and given as much care and attention as the vegetables. For me, every part of the meal should be nourishing – to the body and the soul.
In the 3 years since I've been here, my forms have become more refined, my color palette is extended, and new designs are evolving as I continue to fill my shop. I'm excited to be on the FAT for the first time, and I hope that people continue to visit throughout the year because we are open all year round.
–Story Contributed by Georgia Weithe
Baraboo Fall Art Tour Artist: Rhea Ewing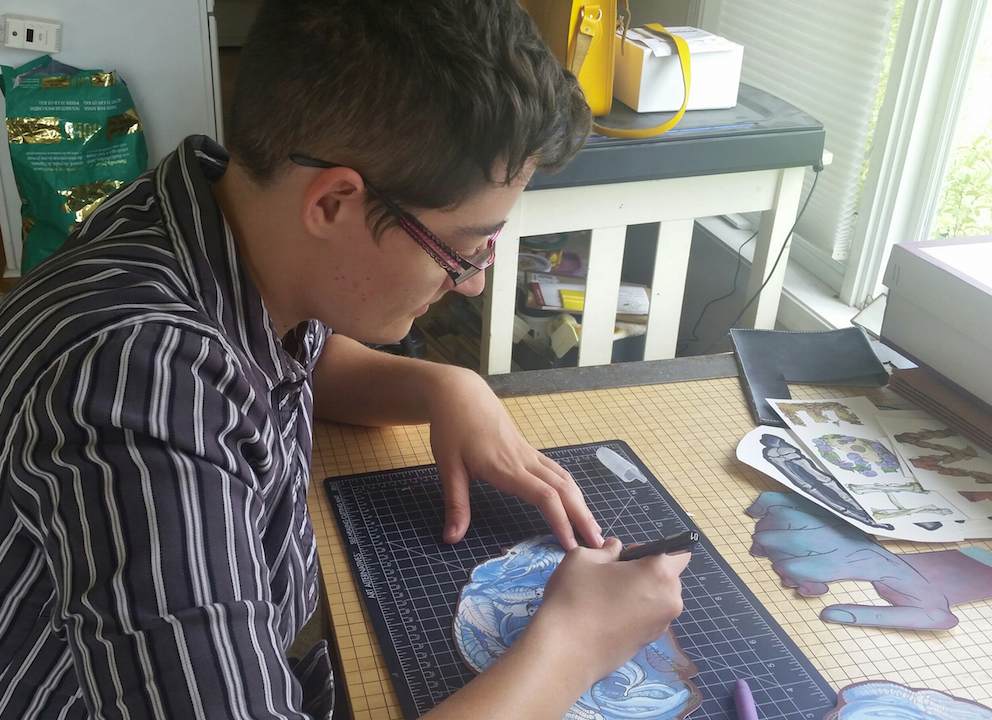 Living in this community has helped shaped my vision as an artist. When I moved here with my family 10 years ago I was a sullen teenager. But I found this area to be irresistibly beautiful and moving…the landscape was breathtaking, the community was aware of and treasured the environment, and it was also supportive of artists and the arts. Consequently, I could no longer be sullen! I started taking art classes here and eventually got a BFA in printmaking and drawing from the University of Wisconsin. The themes of Community and Nature became the source of inspiration in my work.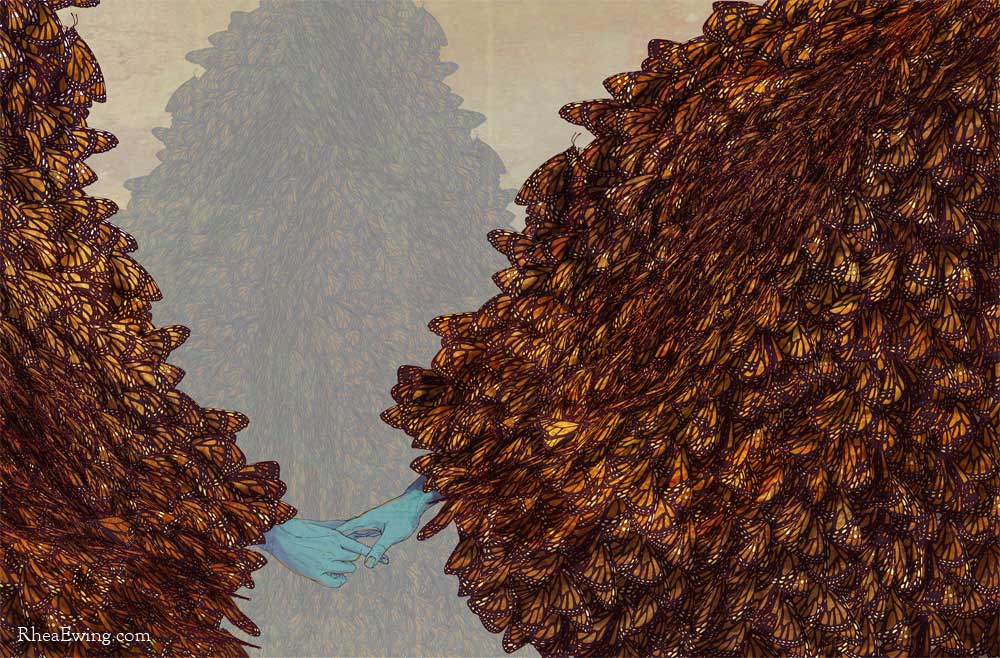 I like looking at the way we find human narratives in nature. Most of the connections I draw are between my own personal and political life and the natural world around me. One of the narratives I have been exploring has to do with personal values. I'm working on a series called "Seven Strengths", featuring the 7 qualities I consider essential for strength and resilience in life. For example, one piece about resilience features tide pool creatures. These are creatures that must adapt to constantly changing water levels. They need to hold on tight to rocky shores, adapt to wet and dry conditions, and be flexible when waves push and pull. The ability to hold fast, adapt and let go are all things I consider essential to my own resilience.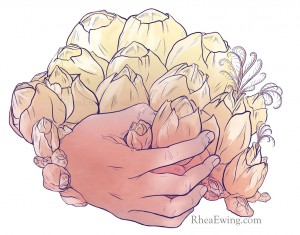 I work in a lot of different mediums – archival digital prints, serigraphs, paper cut, pencils, silkscreen, and ink. Visitors to my studio will see large original print collages, limited edition prints and small drawings pertaining to this theme. Other work will feature local Wisconsin landscapes including birds, wildlife and plant species (I have even used the reviled garlic mustard as the subject of one of my digital print collages!)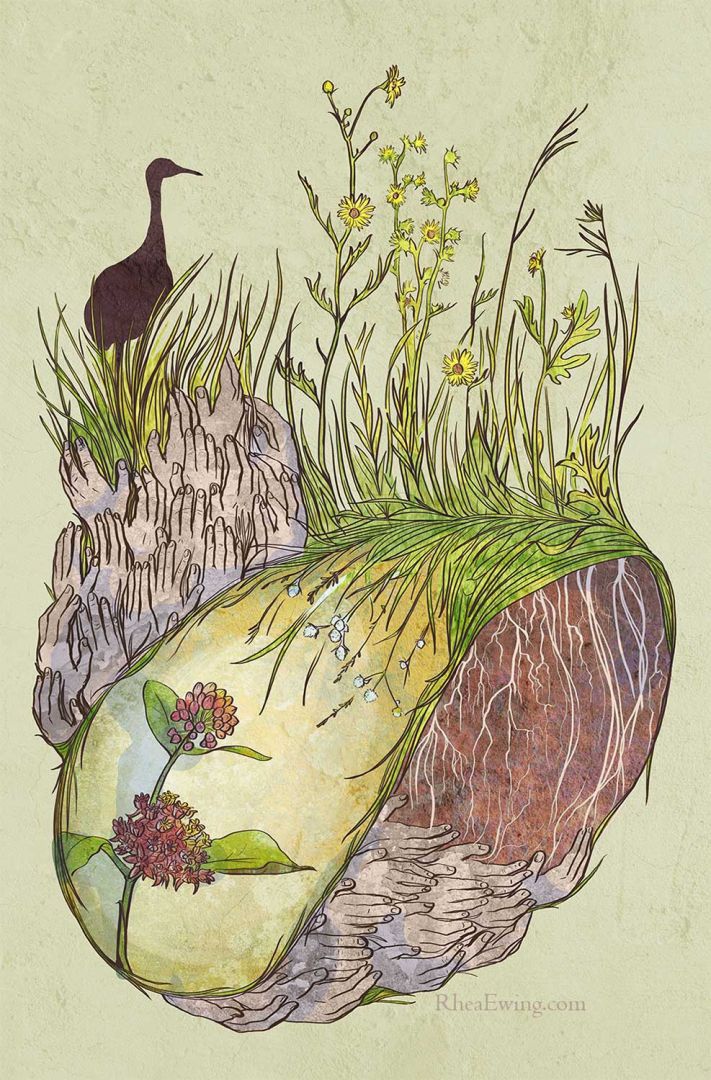 I have observed the Tour for a while and I've noticed it's not only good for the artists but its good for the community as well, and also for the people coming through who get to see the working process of a lot of artists demonstrating a variety of different styles and techniques. This is my first year with the Fall Art Tour and I'm really excited to welcome many visitors.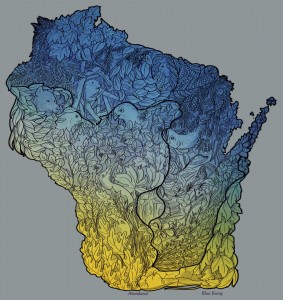 –Story Contributed by Georgia Weithe 
---